Our mission is to improve the quality of life
for stroke survivors and their families.
Quality and enjoyment of life are possible after a stroke. Our focus is to empower stroke survivors to take charge of their recovery to define and achieve their own best days.
Maximize patient access
All stroke survivors deserve access to our program.
Center stroke survivors & their families
Our actions, decisions and products will always serve the best interests of stroke survivors and their families.
Promote evidence-based tools
Our programs bring together evidence-based medicine and the lived experience of stroke survivors.
Be intuitive and relevant
After a stroke, time, energy and attention are precious.
Our goal is to provide survivors what they need,
when they need it, as simply as possible.
At Kandu HealthTM we care deeply about people affected by stroke. Kandu is a digital health company designed for and by people recovering from stroke. We've partnered with a community of stroke survivors to develop a program that fully meets the unique needs of survivors and their families.
As a subsidiary of  Imperative Care, Kandu Health is part of a broader purpose-driven organization dedicated to addressing gaps in the health care system from disease detection through patient recovery. Together, Imperative Care companies are reimagining the way stroke and vascular diseases are treated to transform the way life is lived.
Kandu Health is led by experienced healthcare leaders, clinical advisors, and technology experts who have made stroke care their life's work. We are a diverse team of professionals, clinicians, and survivors committed to helping the stroke community thrive.
Our team includes stroke survivors and clinicians with backgrounds across ten disciplines of stroke care including:
Vascular Neurology

Neurointervention

Physiatry

Neuropsychology

Nursing

Occupational Therapy

Physical Therapy

Speech-Language Pathology

Social Work

Behavioral Health
"It is an honor to work directly with stroke survivors and their families, and to take their lead in defining and improving quality of life after stroke. Changing stroke outcomes starts with changing the way we engage with people who have had strokes."
Fred Khosravi
Chairman & CEO
Imperative Care
Clinical Leaders and Advisors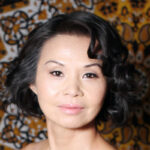 Clinical Professor, Neurosurgery/PM&R, Medical University of South Carolina
Chief of Psychology and Neuropsychology Ceders-Sinai Medical Center
Content Development Consultants